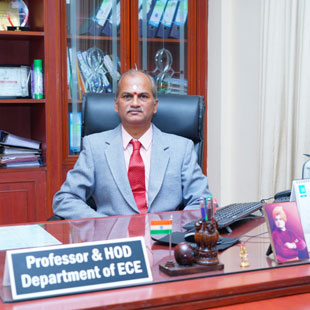 Dr. Aravinda K.
BE, MS (Engg), MTech, PhD
Professor & Head
Today the world has shrunk and the global village is marching towards technological revolution predominantly due to innovations in the field of Electronics and Communication. The field of Electronics and Communication opens the doors to a myriad of opportunities and exciting challenges for the go-getters.
The department of electronics & communication engineering is accredited by the National Board of Accreditation (NBA). The vision of the department is to create high quality engineering professionals who can transform society and earn global recognition.
The department is bestowed with well designed and well maintained infrastructure. It is well equipped with interactive classrooms and laboratories with latest equipment for students to experiment and state of the art facilities. The department also offers the VTU research centre for Ph.D. and M.Sc. (Engg.), for research.
The enthusiastic teaching fraternity of the department besides being highly qualified, have the acumen to instil in students the urge to do better and bring out the best in them. Most of them have considerable experience in academics and research as.Few of them have industrial experience as well.
The Electronics & Communication Engineering Program with its autonomous status is re-designed to cater to the needs of industry. The courses focus on intriguing areas like Embedded Systems, Communication, VLSI, Signal Processing, and Information technologies.
Industry-relevant technology courses are a feather on the cap in the department.To run the same technology experts from reputed organization like IBM, HP, Texas Instruments, Sankalp Semiconductors, Audience Communication, Intel, ISRO, IISc. and other reputed institutes visit the department. The interaction of students with the experts gives them a niche over their peers in a world where technological growth and development is fast pacing and prepares them to chalk out solutions for the real world problems.To keep them updated on the technological scale, various workshops, seminars, competitive events, conferences and industrial visits are also organized on a regular basis.
To give them practical exposure and develop their technical and interpersonal skills the students of ECE department are required to execute various projects throughout their studies. Also they're motivated to publish research papers, and participate in national and international conferences as well. They take the lead in planning and executing various activities through Electronics Hobby Club, Technology Sharing Club, and Professional Connect club which definitely gives them an enthralling experience.
Furthermore the students also undergo special placement training through value added programs. Most of them get placed in reputed organizations such as Intel, Texas Instruments, AMD, Qualcomm, ARM, Schneider Electric, Bosch, Cisco Systems, Juniper Networks, Vmware, Sony, Nokia, Accenture, Cap Gemini, IBM, HP, TCS, Infosys, Wipro, Mindtree and many more. Some students pursue higher studies in Indian and foreign universities, while there are quite a few of them who start their own ventures thereby contributing immensely in the growth of our society.
As the famous quote goes "All work and no play makes Jack a dull boy. Students also engage themselves in cultural, sports and social activities. Many have taken it one step ahead and won gold medals and several trophies in sports and cultural events organized at different levels and several other institutions.
Overall, the department provides a very positive and nurturing environment, for students to develop and grow into into knowledgeable, skilled and productive Electronics & Communication Engineers.
Vision
To create high quality engineering professionals who can serve the society and earn global recognition.
Mission
To build strong foundation in Electronics and Communication Engineering aspects by exposing students to state of the art technology and research
To strengthen the curriculum through interaction with industry experts and to equip the students with the required competency.
To mould students to share technical knowledge and to practice professional and moral values.